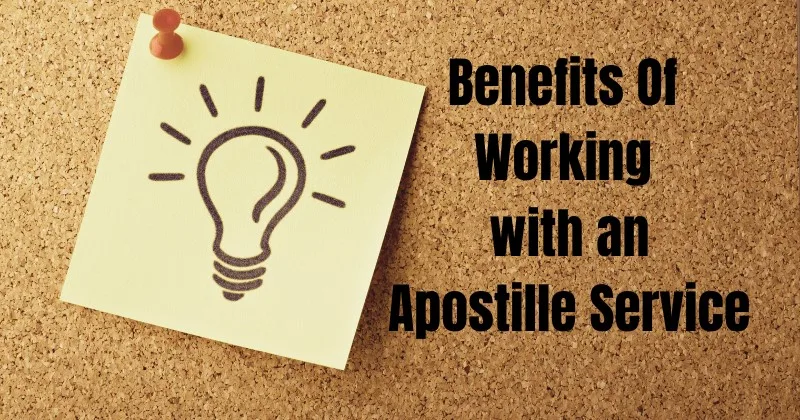 Why You Will Benefit from Working with an Apostille Service
If you are traveling to another country and have been told to apostille specific documents, do you know where to begin? You can certainly apostille paperwork on your own… but you don't have to. The apostille process can be tedious and time-consuming; this is why you will benefit from working with an apostille service.
Benefits from Working with an Apostille Service
There are many steps involved when needing to apostille just one document. And if you have multiple – you must obtain an apostille or embassy legalization for each document. But let's start with the basics – what is an apostille?
An apostille is a commonly accepted form that authenticates the seals and signatures of an official document. All countries that are members of the Hague Convention of 1961 accept the apostille. All nonmember countries require the document to receive embassy legalization to prove the authenticity.
The first step is knowing if your document requires a notary's signature or if it must be a certified copy without a notary.
Examples of documents that require a notary signature are:
School transcriptions
Articles of Incorporation
Bank statements
Power of attorney
Examples of documents that must be a certified copy (and not notarized)
Birth certificate
Death certificate
Marriage license
Divorce decree
You have done the hard part; an apostille service can take it from here.
Working with One Source Process
Now that you have obtained the correct paperwork and ensured that it either has a notary signature or is a certified copy, all you need to do is send it to us.
You will simply fill out the Order Form here. We will review all documents for FREE and inform you of any missing or wrong information.
Our next steps are as follows:
Determine if your documents require an apostille or embassy legalization. But don't worry; we have worked with almost every country and know exactly what is needed.
We will then decide whether to contact the Secretary of State or the US Department of State in Washington, DC.
As an apostille service, we will work through the governmental red tape for you. We know the details that others may sometimes miss (causing the apostille to be rejected.) Details such as to never remove the staples from the that are sent to the US Department of State in Washington, DC.
Plus- we offer certified translation. This saves you the time and hassle of waiting until you receive your paperwork and the apostilles back, then start the translation process. Nope, we get it all done right away for you.
We are available 7 days a week. Please Contact Us here if you have any questions before or during the apostille process.
Jun 23, 2023